As a reminder, here is how I rate my books:
(★★★★★): Loved it
(★★★★): Really liked it
(★★★): Liked it enough
(★★): Didn't care for it
Another few notes: I will warn if there are any spoilers with (start spoiler) and (end spoiler) so you know when to stop reading and pick up again if you don't want to ruin the book for yourself. I no longer go out of my way to watch adaptions, but will continue to mention them and their general critiques (from Rotten Tomatoes) in my reviews. Finally, you can always check out my book review index page if you're looking for my extremely important opinion on any book in particular.
Coraline by Neil Gaiman
Rating: ★★★★
Genre: Young adult, fantasy, horror
GoodReads rating: 4.05 / 5 (512,000 ratings)
Medium used: E-book (borrowed from library via Overdrive)
Summary: Ignored by her parents, Coraline goes exploring in their new house to find a secret passage to the flat next door. Waiting for her there are even more eccentric versions of her neighbors and nicer versions of her parents… with black button eyes. This world is not what it seems and Coraline will have to use all of her wits and adventure instinct to save herself and others.
Thoughts: I liked this a lot! I'm sure I read this at some point as a kid or watched the movie and the book holds up as an adult. The story is solid and the characters are memorable. It's a good, creepy young adult book that is a gateway to more in the genre.
Other adaptations: The movie is both critically acclaimed and well-loved by viewers. In my opinion, it goes above and beyond the book with the other world and frightening imagery.
The Story of More: How We Got To Climate Change and Where To Go From Here by Hope Jahren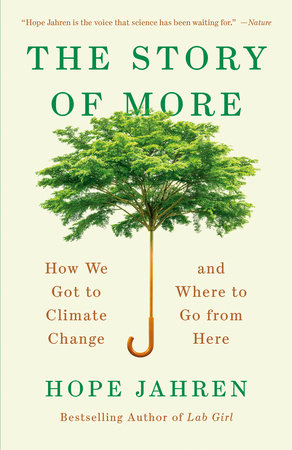 Rating: ★★★★
Genre: Non-fiction, science, environment
GoodReads rating: 4.22 / 5 (3,000 ratings)
Medium used: E-book (borrowed from library via Overdrive)
PopSugar prompt: A book about a subject you are passionate about.
Summary: There is no denying that climate change is happening at unprecedented rates since the Industrial Revolution. With great inventions and discoveries to advance humanity comes a great cost to the plant. Ice caps are melting, average global temperatures are rising and more storms are devastating homes and it's the poorest countries that are most vulnerable. Jahren takes us through a brief history of humanity's relationship with climate change, how it's effecting us today and what we can do to help.
Thoughts: I have a huge love for nature (hello, two conservation degrees!) and definitely most passionate about being kinder to the planet. In fact, it was reading nature books (Into the Wild, The World Around Us, Your Inner Fish, Peter Singer, etc.) that got me into a whole range of non-fiction subjects and nurtured my love for reading. I haven't read a book about climate change in a hot minute (most recently Eating Animals back in September 2020) and thought it was time to get back to my roots after a glowing review of this book by Olive. I liked this book okay, it was a good introductory course to climate change. Although I wasn't a fan of how the author didn't detail more specific impacts of every facet in the book. Also it really bugged me how they kept fluffing things up a bit (things along the lines of "We need to learn to share") instead of just screaming that climate change is because of capitalism and imperialism… but that's probably a bit too much for the introductory reader. Anyway, I'm nit-picking, it was a good book and I learned quite a bit. Jahren has a great writing style.
The Queen's Gambit by Walter Tevis
Rating: ★★★
Genre: Historical fiction, games (chess)
GoodReads rating: 4.23 / 5 (33,000 ratings)
Medium used: E-book (purchased for Kindle)
PopSugar prompt: A book whose title starts with "Q", "X" or "Z"
Summary: Beth Harmon learns how to play chess at her orphanage and becomes highly skilled at a young age, playing men over twice her age. With the help of pills and alcohol, her skills take her around the world to meet a colorful cast of characters and ultimately face the Russian world champion.
Warning: This book contains discussions mention of sexual assault.
Thoughts: Like many people, I binge-watched the series and wanted to see how the book compared. I must say I enjoyed the series more. The adaptation is basically verbatim from the book and does a better job creating a historical fiction atmosphere and suspension. It's my pet peeve when a "historical fiction" book doesn't drive home the historical atmosphere… why not just set it in the present? Reading the summary of the book I feel her addiction should have been driven in more. Being from a third person perspective it was difficult to understand what she was going through exactly. Also, it made me uncomfortable when the author described a young Beth (about nine) masturbating, especially using the crude word "cunt." I find scenes like this uncomfortable because what business does the target audience (young adult to adult) have reading this? It's not constructive. I'm having a hard time getting my point across, but it was unsettling. Watch the series instead.
Other adaptations: The show was a massive hit, although I found it a bit overrated. Also, I guess a musical is in the works. I wonder if there's ever been a musical… about chess… and what it could possibly be called…
An Unkindness of Ghosts by Rivers Solomon
Rating: ★★★
Genre: Science fiction, LGBTQ+
GoodReads rating: 4.01 / 5 (12,500 ratings)
Medium used: E-book (borrowed from library via Overdrive)
PopSugar prompt: An Afrofuturist book
Summary: "Aster lives in the low-deck slums of the HSS Matilda, a space vessel organized much like the antebellum South. For generations, the Matilda has ferried the last of humanity to a mythical Promised Land. On its way, the ship's leaders have imposed harsh moral restrictions and deep indignities on dark-skinned sharecroppers like Aster, who they consider to be less than human. When the autopsy of Matilda's sovereign reveals a surprising link between his death and her mother's suicide some quarter-century before, Aster retraces her mother's footsteps. Embroiled in a grudge with a brutal overseer and sowing the seeds of civil war, Aster learns there may be a way off the ship if she's willing to fight for it."
Warning: This book contains discussions about rape and assault and mention of body horror, abortion and suicide.
Thoughts: This was the PopSugar prompt I was most nervous for as I've never even heard of the Afrofuturist genre, but I'm glad I gave it a shot! At first, I was really hooked in by this book which was surprising since sci-fi isn't usually my preferred genre. Then as the pacing felt off, my interest level dipped. It felt a bit rushed and some parts confused me (again, chock it up to my bad imagination) but I read it at a decent pace and felt it was good for a debut novel.
Have you read any of these?
Photo by Radu Marcusu.