As a reminder, here is how I rate my books:
(★★★★★): Loved it
(★★★★): Really liked it
(★★★): Liked it enough
(★★): Didn't care for it
Another few notes: I will warn if there are any spoilers with (start spoiler) and (end spoiler) so you know when to stop reading and pick up again if you don't want to ruin the book for yourself. I no longer go out of my way to watch adaptions, but will continue to mention them and their general critiques (from Rotten Tomatoes) in my reviews. Finally, you can always check out my book review index page if you're looking for my extremely important opinion on any book in particular.
After I Do by Taylor Jenkins Reid
Rating: ★★★★
Genre: Fiction, romance, contemporary
GoodReads rating: 4.01 / 5 (30,000 ratings)
Medium used: E-book (borrowed from library via Overdrive)
Summary: "When Lauren and Ryan's marriage reaches the breaking point, they come up with an unconventional plan. They decide to take a year off in the hopes of finding a way to fall in love again. One year apart, and only one rule: they cannot contact each other. Aside from that, anything goes."
Thoughts: I've had this book on hold for ages now and it was finally released to me. The premise was interesting to me and the book proved to be decent. The GoodReads summary was a bit more interesting than the book was. For example, it says during their separation time apart beings to "change Lauren's ideas about monogamy and marriage." As someone dipping their toes into non-monogamy, this excited me, but there was no deeper exploration of the sort. If you have any good fiction (or non-fiction for that matter) about non-monogamy, drop it down below! Regardless, this was still an easy, introspective read.
Bunny by Mona Awad
Rating: ★★
Genre: Horror, contemporary, dark academia
GoodReads rating: 3.52 / 5 (26,000 ratings)
Medium used: E-book (purchased for Kindle)
PopSugar prompt: A dark academia book.
Summary: Samantha's Master's cohort at the experimental college of Warren is herself and four other closely-knit girls who call each other "Bunny." When Sam ditches her good friend Ava to hang out with the Bunnies, she gets sucked into their "sinister yet saccharine world, beginning to take part in the ritualistic off-campus "Workshop" where they conjure their monstrous creations, the edges of reality begin to blur."
Warning: This book contains mention of animal torture/death.
Thoughts: What in the name of all that is holy was this? The first 100-ish pages were interesting and grabbed my attention and then it just fell apart from there. One GoodReads reviewer put it well: "the story was incomprehensible for the sake of being incomprehensible." The author definitely has some kind of higher writing experience, which don't get me wrong makes for some killer writing in parts, but a lot of the time it  felt like they were trying to prove something to the reader. I find it ironic where in one scene the writing students were talking about how sometimes not understanding a piece of work doesn't mean they're not "deep" enough, the piece might just be not great. That's how I feel with this book, especially the ending. I struggled through this, I kept checking to see how many pages I had left and sighing in exasperation. (start spoiler) Also, we've seen the imaginary friend thing so many times, it's so tired now. (end spoiler)
Malibu Rising by Taylor Jenkins Reid
Rating: ★★★★★
Genre: Fiction, historical fiction
GoodReads rating: 4.22 / 5 (63,000 ratings)
Medium used: Hardback (purchased from Secret Garden Books in Seattle, WA)
Summary: In the summer of 1983 in Malibu, California, four siblings are throwing their annual end-of-summer party at their cliffside home. Nina, Jay, Hud and Kit are children of Mick Riva, uber-famous singer who might as well be a stranger to them. The kids are all anxious for this party for their own reasons: Nina doesn't want to be the center of attention at this party as she just had a public break-up with her pro tennis player husband. Jay hopes the girl he likes will make an appearance. Hud must confess something to Jay that will change their relationship forever. Kit's tired of living in the shadow of her brothers' surfing success when she's just as good, even if she's still struggling to find herself. The story follows two timelines: one in the 24 hours before the party and another that spans over their early lives and their parents' lives detailing how they got there.
Warning: This book contains drug and alcohol use.
Thoughts: Yes, there are two TJR books on this wrap-up. This author never fails to entertain me and this book was so exception. Absolutely my new favorite by her. I'm pretty sure over time this will fade to a four-star but right now, I read it in a matter of a few days and couldn't stop thinking about it between pick-ups. I loved the Nina character, she reminds me a lot of Fiona from Shameless. The book really gave a sense of increasing stakes with the two different timelines and I loved it. I do have a few critiques: I didn't care much for the stories of the background stars at the party; they were of no consequence and could have been omitted. Also, (start spoiler) Jay's cardiomyopathy was mentioned once at the beginning of the book and when he brought it up again by the end of the book, I basically already forgot. I wish the stakes for this disease were higher (maybe he had a serious scare during the party or something). (end spoiler) Regardless, this was fabulous. TJR really does a great job of helping us peer into the lifestyles of the rich and the famous ("they're always complainin', always complainin'…")
Other adaptations: The rights were bought by Hulu before the book was even released. The Little Fries Everywhere team on the case holds a lot of promise, but we'll probably be waiting for a while as we're still waiting on other long-time coming TJR adaptions we've been promised.
Getting It: A Guide to Hot, Healthy Hookups and Shame-Free Sex by Allison Moon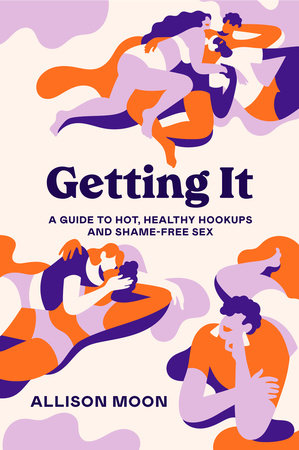 Rating: ★★★★
Genre: Non-fiction, sexual health, LGBTQ+
GoodReads rating: 4.57 / 5 (53 ratings)
Medium used: Paperback (purchased from Elliot Bay Book Company in Seattle, WA)
PopSugar prompt: A book that discusses body positivity.
Summary: "A comprehensive and fun-to-read guidebook for people of all sexual identities and experience levels… [covering] all the bases of hook-up culture from first moves and sex etiquette to navigating nonmonogamy and sexual health." 
Warning: This book contains mention of sexual abuse/substance use
Thoughts: First of all, can we talk about how pretty this cover is? Damn. You can never be too informed when it comes to your sexual and relationship health. This was a pleasure to read. The short sections and various formats (diagrams, bullet points, short paragraphs) made it easy on the eyes and my short attention span. It's one of those books you can but down wherever and not be totally lost when you pick it up again, which I find is rare for non-fiction. Like all advice books, it can get kind of repetitive and the material is definitely a pick-your-own adventure (meaning not every single syllable has to apply to you. "Take the advice that works for you and chuck the rest"). The advice is very nuanced: LGBTQ+ friendly, polyamorous friendly, privilege/ability aware, drugs/alcohol and consent, etc. I especially liked ReidAboutSex's difficult conversation formula that can be applied to all areas of life:
I have something to tell you.
Here's what I'm afraid will happen when I tell you…
Here's what I want to have happen…
Here's what I have to tell you…
Have you read any of these? 
Photo by Radu Marcusu.