So, I'm an idiot and forgot to include a book I read in January in my wrap-ups. I wanted to start a post reading the 5 lowest rated books on my TBR but after this 700-page monstrosity (Imaginary Friend) and getting a full-time job, that's not how I wanted to spend my time. Luckily, the full review has just been sitting in my drafts since I read it.
As a reminder, here is how I rate my books:
(★★★★★): Loved it
(★★★★): Really liked it
(★★★): Liked it enough
(★★): Didn't care for it
Another few notes: I will warn if there are any spoilers with (start spoiler) and (end spoiler) so you know when to stop reading and pick up again if you don't want to ruin the book for yourself. I no longer go out of my way to watch adaptions, but will continue to mention them and their general critiques (from Rotten Tomatoes) in my reviews. Finally, you can always check out my book review index page if you're looking for my extremely important opinion on any book in particular.
Imaginary Friend by Stephen Chbosky
Rating: ★★★
Genre: Fiction, horror, thriller
GoodReads rating: 3.49 / 5 (24,500 ratings)
Medium used: E-book (borrowed from library via OverDrive)
Summary: "Single mother Kate Reese is on the run. Determined to improve life for her and her son, Christopher, she flees an abusive relationship in the middle of the night with her child. Together, they find themselves drawn to the tight-knit community of Mill Grove, Pennsylvania… At first, it seems like the perfect place to finally settle down. Then Christopher vanishes. For six long days, no one can find him. Until Christopher emerges from the woods at the edge of town, unharmed but not unchanged. He returns with a voice in his head only he can hear, with a mission only he can complete: Build a treehouse in the woods by Christmas, or his mother and everyone in the town will never be the same again."
Warning: This book contains mention of abuse and suicide.
Thoughts: Although I rated this three stars, I still enjoyed it, just not enough to recommend it or rave about it. This book reminded me of a Stranger Things/Donnie Darko mash-up for the most part. One of the main critiques of this book was that it was too long but for the most part, I didn't mind the length and whoever says books can't be suspenseful over 700 pages have obviously never read Stephen King. However, I did think the ending was too drawn out and repetitive. On the other hand, I thought the set-up was amazing and the writing style was intriguing. (start spoiler) One of the main things that knocked it down a star for me was the constant biblical references. You can write about a battle between ultimate good and evil without deities being involved (again, see The Stand by Stephen King), but as a staunch atheist I'm probably just biased. (end spoiler)
The Midnight Library by Matt Haig
Rating: ★★★★
Genre: Fiction, contemporary
GoodReads rating: 4.12 / 5 (513,000 ratings)
Medium used: Hardback (purchased from Eagle Harbor Book Co. in Bainbridge Island, WA)
PopSugar prompt: A book about do-overs and fresh starts.
Summary: "Between life and death there is a library, and within that library, the shelves go on forever. Every book provides a chance to try another life you could have lived. To see how things would be if you had made other choices… Would you have done anything different, if you had the chance to undo your regrets?"
Warning: This book contains discussions of suicide and drug abuse and mention of animal death.
Thoughts: This was probably one of the most popular books of the last year. Pretty much all of my ~30 active GoodReads friends (add me!) have already read this or it's on their TBR. I enjoyed this enough. I think I was a little jaded going into this because of all the hype it got. It was an interesting concept, I mean who doesn't think about their lives and how it would be different if they stayed with their ex, pursued a different career or lived somewhere else? However, this seemed like a fiction book moonlighting as a self-help book. Because the main character jumping between so many timelines, I had a hard time establishing who she was and connecting with her. I felt her lives as a rock star and Olympian a little too fantastical and unrealistic. I feel this book struggled with the same thing as the massively flopped 13 Reasons Why series: it's trying to strike a balance between sending a message and being entertaining. It's a hard line to walk.
Other adaptations: It has been optioned by StudioCanal and Blueprint. 
The Salt Path by Raynor Winn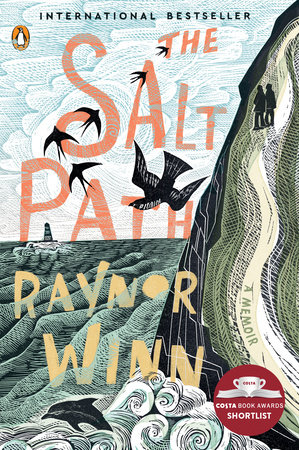 Rating: ★★★★
Genre: Non-fiction, memoir, travel
GoodReads rating: 4.11 / 5 (37,000 ratings)
Medium used: E-book (borrowed from library via OverDrive)
PopSugar prompt: A book with a gem, mineral or rock in the title.
Summary: "Just days after Raynor learns that Moth, her husband of 32 years, is terminally ill, their home and livelihood is taken away. With nothing left and little time, they make the brave and impulsive decision to walk the 630 miles of the sea-swept South West Coast Path, from Somerset to Dorset, via Devon and Cornwall. They have almost no money for food or shelter and must carry only the essentials for survival on their backs as they live wild in the ancient, weathered landscape of cliffs, sea and sky."
Warning: This book contains mention of animal death.
Thoughts: This book made me desperately want to walk the SW Coast Path not unlike The Way made me want to walk the Camino de Santiago. The writing was absolutely beautiful and heartbreaking yet uplifting. A lot of travel memoirs are about young, single, fit usually middle-to-upper class people but this one was about homeless, middle aged couple who felt years beyond their age. I love the representation, this book was simply lovely even though I've only been to one place they've mentioned (Newquay). Also a fun side note: they encountered the beautiful Verity statue by Damien Hirst. However, my favorite YouTuber Cody Ko made a hilarious video about the most expensive hotel room in the world that was designed by Hirst and god, it is hideous.
The House in the Cerulean Sea by TJ Klune
Rating: ★★★
Genre: Fiction, LGBTQIA+, fantasy
GoodReads rating: 4.49 / 5 (143,000 ratings)
Medium used: E-book (borrowed from library via OverDrive)
PopSugar prompt: A book by an author that shares your zodiac sign.
Summary: "Linus Baker leads a quiet, solitary life. At forty, he lives in a tiny house with a devious cat and his old records. As a Case Worker at the Department in Charge Of Magical Youth, he spends his days overseeing the well-being of children in government-sanctioned orphanages. When Linus is unexpectedly summoned by Extremely Upper Management he's given a curious and highly classified assignment: travel to Marsyas Island Orphanage, where six dangerous children reside: a gnome, a sprite, a wyvern, an unidentifiable green blob, a were-Pomeranian, and the Antichrist. Linus must set aside his fears and determine whether or not they're likely to bring about the end of days. But the children aren't the only secret the island keeps. Their caretaker is the charming and enigmatic Arthur Parnassus, who will do anything to keep his wards safe. As Arthur and Linus grow closer, long-held secrets are exposed, and Linus must make a choice: destroy a home or watch the world burn."
Warning: This book contains mention of child abuse.
Thoughts: The author only just shares my sign of Taurus being born on May 20! Anyway, when it comes to the book, in the words of Gia Gunn, "I was so bored." This is probably the most hyped book of the last year and after waiting months to borrow it from the library, it did not live up tp my expectations. Despite being nominated for an adult fantasy award, this is certainly more for a younger audience. Not that adults can't enjoy young adult books, it just seemed more for younger readers (cartoon-ish character descriptions, repetition, etc.). Although, I did enjoy his writing of the children, it was very sweet and realistic. Another jarring reason this book was a big no-no for a lot of readers, myself included, was that it was "inspired" by Canada's Sixties Scoop, where tens of thousands of indigenous children were kidnapped and placed in residential schools or homes to be adopted by white families. GoodReads reviewer Kas does a great job of outlining this further in their review. Basically Klune seemed to be equating Indigenous kids to monsters, the two "normal" people (one of them being a government worker who's part of the reason the kids are in a home in the first place) save the day which looks a lot like a White Savior, and tries to convince us that everything can be solved with kindness. No ma'am.
Have you read any of these? 
Photo by Radu Marcusu.