Another reading challenge! This one is right up my alley as I love non-fiction and wanted to push myself to read even more than I usually do. Before this month, I read 31 non-fiction books so far this year, averaging about three non-fiction books a month. With that, I wanted to read more than three books and try to follow the prompts: collection, industry, style and treatment.
As a reminder, here is how I rate my books:
(★★★★★): Loved it, won't shut up about it for the foreseeable future
(★★★★): Really liked it, enjoyable experience
(★★★): Liked it enough, no strong opinions
(★★): Didn't care for it, would actively discourage people reading it
Another few notes: I will warn if there are any spoilers with (start spoiler) and (end spoiler) so you know when to stop reading and pick up again if you don't want to ruin the book for yourself. I no longer go out of my way to watch adaptions, but will continue to mention them and their general critiques (from Rotten Tomatoes) in my reviews. Finally, you can always check out my book review index page if you're looking for my extremely important opinion on any book in particular.
Disability Visibility: First-Person Stories from the Twenty-first Century edited by Alice Wong
Rating: ★★★★
Genre: Non-fiction, disability, essays
GoodReads rating: 4.54 / 5 (6,000 ratings)
Medium used: E-book (purchased for Kindle library)
NFN prompt: Collection (a collection of essays)
Summary: "One in five people in the United States lives with a disability. Some disabilities are visible, others less apparent—but all are underrepresented in media and popular culture. Now, just in time for the thirtieth anniversary of the Americans with Disabilities Act, activist Alice Wong brings together this urgent, galvanizing collection of contemporary essays by disabled people."
Warning: This book contains topics that may be sensitive to some readers. There are trigger warnings at the beginning of each chapter.
Thoughts: This collection was absolutely incredible. It's damn near impossible to pick my favorite essays, but here are a few of them with links provided to the original articles: Unspeakable Conversations, The Erasure of Indigenous People in Chronic Illness, The Antiabortion Bill You Aren't Hearing About, Six Ways of Looking at Crip Time, Disability Solidarity: Completing the "Vision for Black Lives", Love Means Never Having to Say… Anything (the original was a paid article, but follow the link for a version read by Pedro Pascal on Modern Love podcast). My biggest takeaway from this was not to think of ways to "cure" these bodies, but change the world around them to accommodate them. As Jen Deerinwater wrote: "[b]y locating the cause of our problems outside our bodies, we can begin to love ourselves again."
Billion Dollar Loser: The Epic Rise and Spectacular Fall of Adam Neumann and WeWork by Reeves Wiedeman
Rating: ★★★★★
Genre: Non-fiction, business, biography
GoodReads rating: 4.12 / 5 (7,000 ratings)
Medium used: E-book (purchased for Kindle library)
NFN prompt: Industry
Summary: An immigrant eager to live the American dream, Adam Neumann set out to reinvent the world of office work for freelancers. Although it appeared to be essentially a real estate company, Adam insisted he wanted to "change the world" and "elevate the world's consciousness." His charisma attracted billions of dollars in investments and eventually valued the company at $47 billion dollars… until six weeks later when the company lost it all.
Thoughts: When Grant and I were waiting for a ferry back to Seattle about six months ago, we saw a massive poster with an unclear advertisement for a company we've never heard of called WeWork and thought nothing of it. When Olive released her video about the company and Neumann, I became intrigued and watched the documentary. It is wild, I'm gobsmacked as to how more people don't know about this. This is an incredible story, the best I can compare it to is The Social Network meets Fyre festival. Even as someone who isn't super interested in business, this story was accessible and engaging.
Other adaptations: The Hulu documentary is a must-watch and contains most of the information the book does. I've seen it twice already and got Grant to watch it and now he's telling everyone else about it!
Women In Sports: 50 Fearless Athletes Who Played to Win by Rachel Ignotofsky
Rating: ★★★★
Genre: Non-fiction, feminism, sports
GoodReads rating: 4.36 / 5 (660 ratings)
Medium used: E-book (borrowed from library)
NFN prompt: Style (being illustrated, it's not the style of non-fiction you'd expect, eh? A bit of a stretch, I know)
Summary: "A fascinating collection full of striking, singular art, Women in Sports features 50 profiles and illustrated portraits of women athletes from the 1800s to today including trailblazers, Olympians, and record-breakers in more than 40 different sports."
Thoughts: This was a cute, quick and fun read. I read her book about women in science and liked it about the same. I feel this did a slightly better job at representing women of color in the illustrations and representation for disabled people. This was published in 2017 so I would maybe love to see an updated version about trans/non-gender conforming athletes to make her feminism more inclusive. Although trans/non-gender conforming athletes have been around since the invention of sports, it's become more visible in the public discourse over the last five years and is still a touchy topic.
This is Your Mind On Plants by Michael Pollan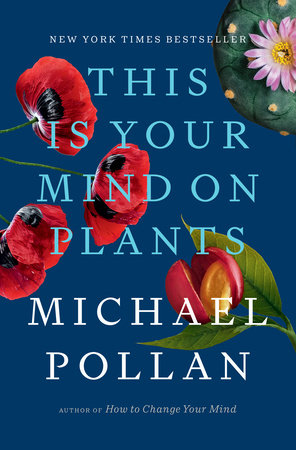 Rating: ★★★★★
Genre: Non-fiction, science, psychology
GoodReads rating: 3.89 / 5 (7,000 ratings)
Medium used: Hardback (purchased from Secret Garden Books in Seattle)
NFN prompt: Treatment
Summary: Pollan explores three plants that alter consciousness: opium in poppies, caffeine and mescaline in cacti. Their history, how they've impacted our minds and culture and their journey from unassuming plant to illict drug.
Thoughts: Are any of us surprised? How to Change Your Mind is one of my all-time favorite books and essential reading for the responsible psychedelic user. This book was the perfect expansion into other natural remedies with long histories. I love how Pollan's books, although non-fiction, treat the people in them like characters. I feel for them and their very real journeys and makes the book have stakes. I loved learning about the capitalist history of caffeine and the Indigenous roots of peyote and its appropriation ("The white man goes into his church house and talks about Jesus, but the Indian goes into his tepee and talks to Jesus" – Comanche chief Quanah Parker).
The Missionary Position: Mother Teresa in Theory and Practice by Christopher Hitchens
Rating: ★★★
Genre: Non-fiction, religion
GoodReads rating: 4.07 / 5 (9,900 ratings)
Medium used: E-book (borrowed from library)
Summary: "A Nobel Peace Prize recipient beatified by the Catholic Church in 2003, Mother Teresa of Calcutta was celebrated by heads of state and adored by millions for her work on behalf of the poor. In his measured critique, Hitchens asks only that Mother Teresa's reputation be judged by her actions-not the other way around. With characteristic élan and rhetorical dexterity, Hitchens eviscerates the fawning cult of Teresa, recasting the Albanian missionary as a spurious, despotic, and megalomaniacal operative of the wealthy who long opposed measures to end poverty, and fraternized, for financial gain, with tyrants and white-collar criminals throughout the world."
Thoughts: We've all been in those meetings that could have been an e-mail, but what about books that could have just been an article? This is guilty of that (this article is a good substitute and more accessible than the book). I've read one of his books before and have a lot of the same critiques: unnecessarily academic (I'm seeing this as a common pattern in anti-theist writers), too much background and a lot of his points come across as just vapid. Not to mention the foreword isn't gripping and Hitchens would rather describe a photo in great detail than just insert it into the text. For as short as this book was, I had trouble getting through it.
Have you read any of these? Did you participate in Non-Fiction November? 
Photo by Radu Marcusu.