The last reading wrap-up of 2021! Stay tuned for a yearly reading wrap-up.
As a reminder, here is how I rate my books:
(★★★★★): Loved it, won't shut up about it for the foreseeable future
(★★★★): Really liked it, enjoyable experience
(★★★): Liked it enough, no strong opinions
(★★): Didn't care for it, would actively discourage people reading it
Another few notes: I will warn if there are any spoilers with (start spoiler) and (end spoiler) so you know when to stop reading and pick up again if you don't want to ruin the book for yourself. I no longer go out of my way to watch adaptions, but will continue to mention them and their general critiques (from Rotten Tomatoes) in my reviews. Finally, you can always check out my book review index page if you're looking for my extremely important opinion on any book in particular.
Homegoing by Yaa Gyasi
Rating: ★★★★★
Genre: Historical fiction
GoodReads rating: 4.46 / 5 (240,000 ratings)
Medium used: E-book and audiobook (borrowed from library)
PopSugar prompt: A book with a family tree
Summary: "Two half-sisters, Effia and Esi, are born into different villages in eighteenth-century Ghana. Effia is married off to an Englishman and lives in comfort in the palatial rooms of Cape Coast Castle. Unbeknownst to Effia, her sister, Esi, is imprisoned beneath her in the castle's dungeons, sold with thousands of others into the Gold Coast's booming slave trade, and shipped off to America, where her children and grandchildren will be raised in slavery. One thread of Homegoing follows Effia's descendants through centuries of warfare in Ghana, as the Fante and Asante nations wrestle with the slave trade and British colonization. The other thread follows Esi and her children into America. From the plantations of the South to the Civil War and the Great Migration, from the coal mines of Pratt City, Alabama, to the jazz clubs and dope houses of twentieth-century Harlem, right up through the present day, Homegoing makes history visceral, and captures, with singular and stunning immediacy, how the memory of captivity came to be inscribed in the soul of a nation."
Warning: This book contains graphic descriptions of racial abuse, rape and slavery
Thoughts: Even though the family tree reveals the names of the children and might be considered as a spoiler for some people, it didn't matter to me. Their story was so much more than who their parents were and I actually looked forward to the characters meeting their partners. I often talk about non-fiction books that read like fiction, but this is the first fiction that some points read like a non-fiction book in a good way. I felt like not only was this an incredible story, I learned things about African history and culture from a more personal perspective by storytelling. I loved the format of short stories through centuries connected in a simple but effective way. This is a fabulous debut novel with a breathtaking atmosphere.
Before the Coffee Gets Cold by Toshikazu Kawaguchi
Rating: ★★★★
Genre: Fiction, fantasy
GoodReads rating: 3.73 / 5 (61,000 ratings)
Medium used: E-book (borrowed from library)
PopSugar prompt: A book that takes place in a restaurant
Summary: A small, windowless café in Tokyo allows visitors to go back in time, as long they abide by a few rules: they can't move from the special time-travelling seat, nothing they do will change the present and they must return to the present before the coffee gets cold.
Thoughts: This was so sweet, I definitely welled up a few times. It's a pretty short book and I think there's something for everyone. The characters aren't as fleshed out as I would have liked, but I did really enjoy the short, connected tales. It kind of got predictable after a bit since you can't change the present or leave the café, it really limits what can be done. Which is fine and what I expected, true time travel books are too much of a mind-fuck for me. Less is more sometimes.
A Walk in the Woods: Rediscovering America on the Appalachian Trail by Bill Bryson
Rating: ★★★★
Genre: Non-fiction, travel
GoodReads rating: 4.05 / 5 (372,000 ratings)
Medium used: E-book and audiobook (borrowed from library)
PopSugar prompt: Your favorite prompt from a past PopSugar Challenge
Summary: "The Appalachian Trail stretches from Georgia to Maine and covers some of the most breathtaking terrain in America—majestic mountains, silent forests, sparking lakes. If you're going to take a hike, it's probably the place to go… [Bryson] introduces us to the history and ecology of the trail and to some of the other hardy (or just foolhardy) folks he meets along the way—and a couple of bears." 
Thoughts: This is my first year doing the PopSugar reading challenge, but looking at last year's, the prompt that looked the most interesting to me was an author whose first and last name start with the same letter. Writing this now I realize Mr. Bryson's full first name is probably William, but too late now! I've read a few Bill Bryson's other books and feel a connection to him as a fellow American who lived in the UK and had culture shock living there as well as reverse culture-shock coming back. One of my new favorites, some parts made me chuckle and his descriptions of travel, nature and history were amazing. Nothing quite captures the spirit of a travel book like a walking story.
Other adaptations: The 2015 movie with Robert Redford and Nick Nolte (hey, two more people whose first and last name start with the same letter! Do I get extra credit?) got okay reception.
Under a White Sky: The Nature of the Future by Elizabeth Kolbert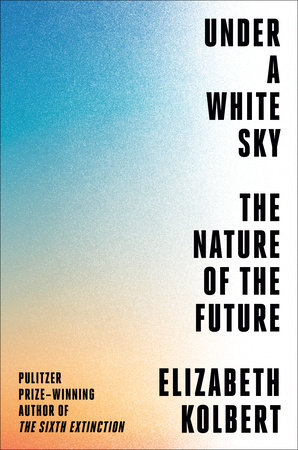 Rating: ★★★★
Genre: Non-fiction, science, environment
GoodReads rating: 4.13 / 5 (5,000 ratings)
Medium used: Audiobook (borrowed from library)
Summary: Elizabeth Kolbert examines ways humans are trying to save the planet from the environmental disasters we've created. Examples include "biologists who are trying to preserve the world's rarest fish, which lives in a single tiny pool in the middle of the Mojave; engineers who are turning carbon emissions to stone in Iceland; Australian researchers who are trying to develop a super coral that can survive on a hotter globe; and physicists who are contemplating shooting tiny diamonds into the stratosphere to cool the earth."
Thoughts: This was incredible. I love the way her research is so involved. Immediate high rating for including the Devil's Hole pupfish, such a fascinating conservation case. My fav Caitlin Doughty made a great video on it you can watch here. This book does a great job of exploring the pros and cons of what methods scientists are implementing in these dire times. I'm not going to lie, the outlook is pretty grim, but with more creative thinking like the ones outlined in this book, we can minimize the damage.
Jesus and John Wayne: How White Evangelicals Corrupted a Faith and Fractured a Nation by Kristin Kobes Du Mez
Rating: ★★★★
Genre: Non-fiction, religion, politics, culture
GoodReads rating: 4.38 / 5 (9,600 ratings)
Medium used: Audiobook (borrowed from library)
Summary: "A scholar of American Christianity presents a seventy-five-year history of evangelicalism that identifies the forces that have turned Donald Trump into a hero of the Religious Right. How did a libertine who lacks even the most basic knowledge of the Christian faith win 81 percent of the white evangelical vote in 2016? And why have white evangelicals become a presidential reprobate's staunchest supporters?… Jesus and John Wayne is a sweeping account of the last seventy-five years of white evangelicalism, showing how American evangelicals have worked for decades to replace the Jesus of the Gospels with an idol of rugged masculinity and Christian nationalism, or in the words of one modern chaplain, with "a spiritual badass.""
Warning: This book contains discussions of rape and sexual assault.
Thoughts: I read this because a YouTuber I like a lot, Jen of Fundie Fridays (who does her make-up while talking about shady Christian fundamentalist people and practices) recommended it. This was pretty good, even if it was very dense and read more like a textbook than engaging non-fiction book. Even the GoodReads summary is lengthy and dry. I'm sorry to say that I'm not sure if I would have stuck with it if it was a book I was reading rather than listening to while I had a 24-hour drive ahead of me. It was especially bonkers to hear about a controversial megachurch in my own Seattle backyard (Mars Hill). There was a lot of good information, but I much prefer the more accessible way YouTubers like Jen present it to the audience.
Have you read any of these?
Photo by Radu Marcusu.