As a reminder, here is how I rate my books:
(★★★★★): Loved it, won't shut up about it for the foreseeable future
(★★★★): Really liked it, enjoyable experience
(★★★): Liked it enough, no strong opinions
(★★): Didn't care for it, would actively discourage people reading it
Another few notes: I will warn if there are any spoilers with (start spoiler) and (end spoiler) so you know when to stop reading and pick up again if you don't want to ruin the book for yourself. I no longer go out of my way to watch adaptions, but will continue to mention them and their general critiques (from Rotten Tomatoes) in my reviews. Finally, you can always check out my book review index page if you're looking for my extremely important opinion on any book in particular.
How to Hide an Empire: A History of the Greater United States
by

Daniel Immerwahr
Rating: ★★★★★
Genre: Non-fiction, history, politics
GoodReads rating: 4.46 / 5 (8,400 ratings)
Medium used: Audiobook (borrowed from library)
Summary: "We are familiar with maps that outline all fifty states. And we are also familiar with the idea that the United States is an "empire," exercising power around the world. But what about the actual territories–the islands, atolls, and archipelagos–this country has governed and inhabited? … We travel to the Guano Islands, where prospectors collected one of the nineteenth century's most valuable commodities, and the Philippines, site of the most destructive event on U.S. soil. In Puerto Rico, Immerwahr shows how U.S. doctors conducted grisly experiments they would never have conducted on the mainland and charts the emergence of independence fighters who would shoot up the U.S. Congress."
Warning: This book contains discussions about racism and colonialism with mention of suicide and medical abuse as well as images that may be disturbing to some viewers (dead bodies).
Thoughts: Wow, what an amazing accessible yet thorough read. Who thought anyone could make guano and the standardization of screw threads interesting? This author, that's who. (Regarding screw thread standardizations: the U.S. is happy to make and enforce standardizations on the world, but refuse to adopt other widely accepted standardizations like that of the metric system, even this part of the book was infuriating).
As soon as I read the intro, I knew this would be a five-star read: like many other Americans, I had no idea that on "the day that will live in infamy" (which in actuality, isn't the same all over the world: the Japanese remember Pearl Harbor as December 7, 1941 rather than December 8) included multiple attacks in other U.S. territories (at this time Hawai'i wasn't a state), the biggest one being the invasion of the Philippines. One of the many great visual aides in the book included a draft of the "infamy" speech with all mention of the Philippines literally erased from existence.
This was close to home to me as I used to work in Dutch Harbor, Alaska which was also bombed by the Japanese, but largely left out of history as it was only a mere territory at the time. Like many U.S. territories, it was left largely undefended even given its close proximity to "enemy" lines. For their "own good," the U.S. evacuated Natives (interestingly, white Unalaskans were permitted to stay) living west of Unimak island further inland only to be met with no food or shelter. Here is a great recent post of a short history of Dutch Harbor, including the battle.
Another connection I made was that of Daniel Burnham, architect and subject of another great book Devil in the White City, as he used the Philippines colonies as his playground for new city planning as the consequences for experimenting abroad were less: he could "confiscate land, redirect taxes, and waste workers' lives."
A fun bit of pop-culture trivia: the Godzilla films were protest films originally loosely inspired by the Daigo Fukuryū Maru (F/V Lucky Dragon no. 5), when wile fishing outside of the U.S. mandated danger zone, they still experienced snow-like radioactive fallout from the nuclear tests at Bikini Atoll. While the ship was undamaged and only one crew member died the day of the incident, exploiting their "territories" with abandon. Now, the U.S. has appropriated Godzilla as just another monster flick.
One of our still largest territories is Puerto Rico, a place I know little about, probably on purpose. Funded by the Rockefeller Institute, Cornelius "Dusty" Rhoads wrote a letter saying he was intentionally injected cancer cells into his patients and took great joy in making them ill and killing them. This doesn't sound surprising given his extensive research on mustard gas (which also helped with cancer treatments). Additionally, puertorriqueño women were the subject of a lot of birth control pill experiments, often making them infertile. When talking about police brutality in America, the Ponce Massacre is often forgotten, where 21 people were murdered and over 200 wounded during a peaceful demonstration of anti-slavery. But since it didn't happen in the contiguous U.S. and we don't really see puertorriqueños as our responsibility, it's not often spoken about.
I could go on and on about the excellent and interesting points made in this book, but I'll have to stop myself here. This was a fabulous read, I recommend the e-book/physical copy if you can as it has great visual aides. This should be the high school history textbook, honestly.
Her Body and Other Parties by Carmen Maria Machado
Rating: ★★★
Genre: Fiction, horror, fantasy
GoodReads rating: 3.89 / 5 (59,500 ratings)
Medium used: E-book (borrowed from library)
Summary: "A wife refuses her husband's entreaties to remove the green ribbon from around her neck. A woman recounts her sexual encounters as a plague slowly consumes humanity. A salesclerk in a mall makes a horrifying discovery within the seams of the store's prom dresses. One woman's surgery-induced weight loss results in an unwanted houseguest. And in the bravura novella Especially Heinous, Machado reimagines every episode of Law & Order: Special Victims Unit, a show we naively assumed had shown it all, generating a phantasmagoric police procedural full of doppelgangers, ghosts, and girls with bells for eyes. Earthy and otherworldly, antic and sexy, queer and caustic, comic and deadly serious, Her Body and Other Parties swings from horrific violence to the most exquisite sentiment. In their explosive originality, these stories enlarge the possibilities of contemporary fiction."
Warning: This book contains themes of abuse, sexual assault/rape and violence and mention of suicide.
Thoughts: After adoring In the Dream House, I was a little let down by this. I just don't think short stories, especially horror is for me. Plus I'm not a huge fan of fantasy, even this very light sort. I did appreciate how each story had different formats and this felt like the author was trying to do something different. After a promising re-telling of the green ribbon story (if you know you know), the rest of the book kind of deflated for me.
Home/Land by Rebecca Mead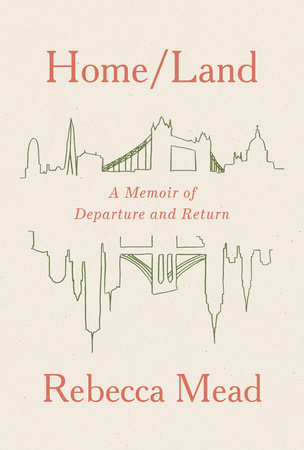 Rating: ★★★★
Genre: Non-fiction, memoir, travel
GoodReads rating: 3.58 / 5 (95 ratings)
Medium used: Audiobook (borrowed from library)
PopSugar prompt: A book published in 2022
Summary: "When the New Yorker writer Rebecca Mead relocated to her birth city, London, with her family in the summer of 2018, she was both fleeing the political situation in America and seeking to expose her son to a wider world. With a keen sense of what she'd given up as she left New York, her home of thirty years, she tried to knit herself into the fabric of a changed London. The move raised poignant questions about place: What does it mean to leave the place you have adopted as home and country? And what is the value and cost of uprooting yourself?"
Thoughts: The premise of this book seemed promising to me, as someone who lived abroad albeit for a lot shorter than this author lived in a different country, and returned to her homeland (hey, that's the title of the book). However, I was not aware this author was quite a bit older (middle age) and I was hoping for someone a bit younger to have a more relatable experience, but there were still some great nuggets in there. Not to mention, the author narrated the audiobook and it was exceptional, it's always great to hear authors read their own words especially when they are a good voice actor.
First, how she saw her homeland as "real life" even after all these years of living in another country. "And I was tempted, too, by the idea of living and working in London-of returning to the challenge of real life, as it seemed to me then, rather than continuing what felt like a rootless and provisional, if sometimes charmed, existence in New York." It's interesting to see how that feeling never quite goes away. I also liked the discussion of London as a melting pot like I read a lot about in The Good Immigrant recently, specifically about Multicultural London English, or MLE. Especially, everybody wants to sound like each other so "contact between groups who speak in different way, people will shift the way they speak and eventually end up sharing speech styles and sets of pronunciations," which it why Londoners can have a distinct speech pattern from other regions of the nation. The descriptions of London were stunning, but I don't know if people who haven't explored it as well as I have would love it. Finally, any mention of Brighton always gets a smile from me, especially when it teaches me something I didn't know.
Now, cons: I wasn't fan of the entire family history of the author, it dragged a bit at times. Also I couldn't stop rolling my eyes at the "fleeing the political situation in America" bit and literal virtue signaling in this book, giving a roster of all the protests she went to and how they made her vomit from the "fatigue of fear." A lot of people wouldn't exactly list the Trump administration as the highlight of their life, but as an (at least) middle class, middle-age white woman, you'd probably be fine. Enough with the white tears.
Why Women Have Better Sex Under Socialism by Kristen R. Ghodsee
Rating: ★★★★
Genre: Non-fiction, feminism, politics
GoodReads rating: 4.04 / 5 (3,200 ratings)
Medium used: Audiobook (borrowed from library)
Summary: "Ghodsee, an acclaimed ethnographer and professor of Russian and East European Studies, spent years researching what happened to women in countries that transitioned from state socialism to capitalism. She argues here that unregulated capitalism disproportionately harms women, and that we should learn from the past. By rejecting the bad and salvaging the good, we can adapt some socialist ideas to the 21st century and improve our lives."
Thoughts: This was a great, short read. It marries accessible points about feminism and socialism for arguments for both. Even though in these days women have the freedom to work as cogs in the capitalist machine (luck us), lack of state-funded childcare and maternity leave pushes women back into the home to be caregivers… and since women are already in the home, they also often take on the care of elderly and disabled as pensions and healthcare programs get cut as well. It's a vicious cycle; "Capitalism thrives on women's unpaid labor in the home because women's care work supports lower taxes. Lower taxes mean higher profits for those already at the top of the income ladder-mostly men."
Even today, men will often pay for the first date and feel entitled to sex. "[If] a man feel he is paying a women to access her body, why would he care about her pleasure?… On the other hand, two people-freely exchanging their affections without any thought of what else they might get out of it-are probably a lot more attentive to each others' needs than those who are consciously or subconsciously worried about the economic nature of the exchange." In a surprising turn from the author, the conclusion tells women to simply vote, as if we don't live in a nation of jerrymandering and voter suppression. Look at what Joe Biden has done to block the Supreme Court overturn of Roe v. Wade: nothing. Regardless, if these principles are important to you, be with someone whose views align with yours even if society needs to catch up with them.
Have you read any of these?
Photo by Radu Marcusu.