As a reminder, here is how I rate my books:
(★★★★★): Loved it, won't shut up about it for the foreseeable future
(★★★★): Really liked it, enjoyable experience
(★★★): Liked it enough, no strong opinions
(★★): Didn't care for it, would actively discourage people reading it
Another few notes: I will warn if there are any spoilers with (start spoiler) and (end spoiler) so you know when to stop reading and pick up again if you don't want to ruin the book for yourself. I no longer go out of my way to watch adaptions, but will continue to mention them and their general critiques (from Rotten Tomatoes) in my reviews. Finally, you can always check out my book review index page if you're looking for my extremely important opinion on any book in particular.
Transgender History by Susan Stryker
Rating: ★★★★
Genre: Non-fiction, LGBTQIA+
GoodReads rating: 4.19 / 5 (3,800 ratings)
Medium used: E-book (borrowed from the library)
PopSugar prompt: A book about gender identity.
Summary: "Covering American transgender history from the mid-twentieth century to today, Transgender History takes a chronological approach to the subject of transgender history, with each chapter covering major movements, writings, and events. Chapters cover the transsexual and transvestite communities in the years following World War II; trans radicalism and social change, which spanned from 1966 with the publication of The Transsexual Phenomenon, and lasted through the early 1970s; the mid-'70s to 1990-the era of identity politics and the changes witnessed in trans circles through these years; and the gender issues witnessed through the '90s and '00s."
Warning: This book contains themes of racism, sexism, homophobia and transphobia.
Thoughts: This was packed with great information. It was a little dense and read like a textbook, hence the slightly lower rating. My favorite parts were about trans* representation in media and even though the show Transparent starred a cis-male actor, it was written and produced by trans* people. On the other hand, both The Danish Girl and Dallas Buyer's Club were made by cis people for cis people and lack representation. Basically, just because the actor isn't trans* doesn't automatically negate representation. A line that stuck with me were the last words of a trans* gay man who wasn't accepted and on his death bed dying of AIDS-related complications, he boldly said, "You told me I couldn't live as a gay man, but now I am going to die as one." I was also proud to learn that the conservative state of Arizona and my hometown of Tucson held the first "unique conference in transgender studies… called Trans*studies: An International Transdisciplinary Conference on Gender, Embodiment, and Sexuality." They were also one of the first to make a certificate/degree program for transgender studies. Bear down!
Act Your Age, Eve Brown by Talia Hibbert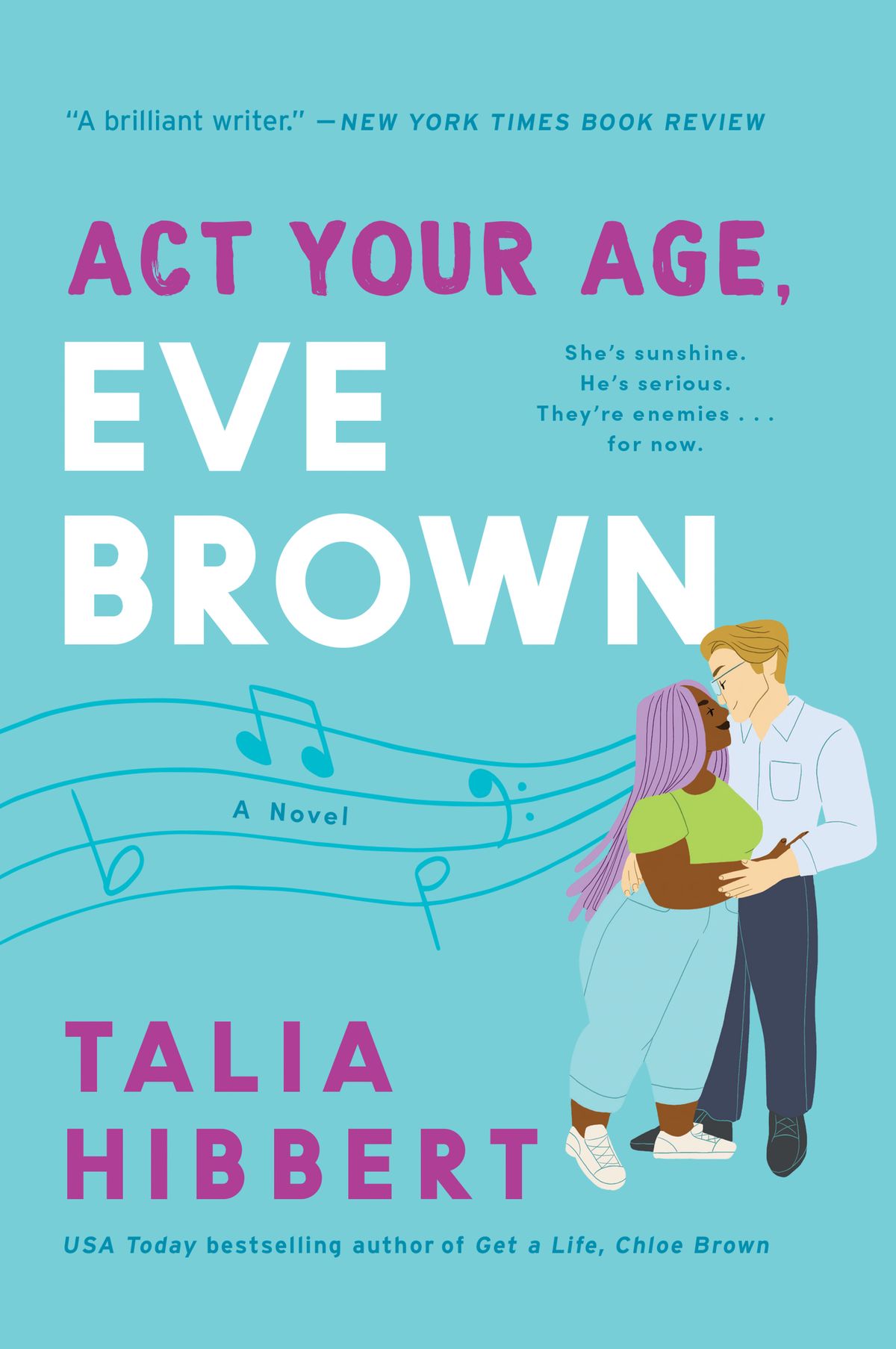 Rating: ★★★★
Genre: Fiction, romance
GoodReads rating:  4.16 / 5 (67,400 ratings)
Medium used: E-book (borrowed from the library)
PopSugar prompt: A book with a palindromic title.
Summary: Eve is at a crossroads in her directionless life when she impulsively interviews for a chef position at a bed and breakfast. Uptight owner Jacob doesn't like her flightiness and doesn't offer her the job, but on the way out she hits him with her car and he is forced to take her on has an extra set of hands. Soon enough, they are forced to work together and realize they're not so different after all, and something more than professional starts to develop.
Warning: This book contains mention of childhood neglect and anti-autistic ableism.
Thoughts: You know what, I'm going to say it: this PopSugar prompt was stupid as hell. I'm convinced someone at PopSugar didn't know the definition of palindrome: a word that's the same forward and backwards (such as racecar), not to mention the GoodReads suggested list is all over the place. So I took matters into my own hands and got creative with the prompt and although it might be a reach for this prompt as only one word in the title is a palindrome, I don't really care.
Anyway, back to the good stuff: I was finishing my job at the hotel when I read this so it kind of hit home! This was cute, really hot and funny. I've recently read a few not so good "romance" books and while reviewers say they just read it for the sex, that's no reason to have some kind of plot and Talia Hibbert's books to a great job of having some kind of storyline to motivate the build-up. I definitely have to read the first book now. Also, the line "Christ, woman read a waterfowl blog" might be my new favorite ever.
Little Women by Louisa May Alcott
Rating: ★★★
Genre: Fiction, classics
GoodReads rating: 4.13 / 5 (2,014,000 ratings)
Medium used: Audiobook (borrowed from the library)
PopSugar prompt: A book that takes place in Victorian times
Summary: "Here are talented tomboy and author-to-be Jo, tragically frail Beth, beautiful Meg, and romantic, spoiled Amy, united in their devotion to each other and their struggles to survive in New England during the Civil War."
Warning: This book contains mention of corporal punishment.
Thoughts: I feel like a fake feminist and book lover for neither enjoying this nor The Bell Jar this year, but at least now I can say I read it. Similarly to Plath, Louisa May Alcott has a great background:
It is no secret that Alcott based Little Women on her own early life. While her father, the freethinking reformer and abolitionist Bronson Alcott, hobnobbed with such eminent male authors as Emerson, Thoreau, and Hawthorne, Louisa supported herself and her sisters with "woman's work," including sewing, doing laundry, and acting as a domestic servant. But she soon discovered she could make more money writing. Little Women brought her lasting fame and fortune, and far from being the "girl's book" her publisher requested, it explores such timeless themes as love and death, war and peace, the conflict between personal ambition and family responsibilities, and the clash of cultures between Europe and America.
… and that's all well and good, but I wish these books would stand on their own. For example, I didn't necessarily have to read much about Jane Austen's life to appreciate Pride and Prejudice and understand the context. This book also contained a book pet peeve of mine: an overfamiliar narrator with bits like "now reader," and "we will come back to that later", it really takes me out of the story. I didn't take much from it as ultimately the family's answer to everything was "turn to God" and I had no strong feelings about what happened to any of the characters and who they ended up with (or didn't). If I went into this book knowing it was just going to be 600 pages of character study and vibes, I would have enjoyed it more.
Other adaptations: So many. Most recently and popularly the 2019 Greta Gerwig movie which was loved by critics and viewers. I hope to watch it soon and update this likewise.
Watchmen by Alan Moore
Rating: ★★★
Genre: Graphic novel, science fiction
GoodReads rating: 4.37 / 5 (530,000 ratings)
Medium used: Paperback (borrowed from my partner)
PopSugar prompt: A Hugo Prize winner
Summary: "In an alternate world where the mere presence of American superheroes changed history, the US won the Vietnam War, Nixon is still president, and the cold war is in full effect. Watchmen begins as a murder-mystery, but soon unfolds into a planet-altering conspiracy. As the resolution comes to a head, the unlikely group of reunited heroes – Rorschach, Nite Owl, Silk Spectre, Dr. Manhattan and Ozymandias – have to test the limits of their convictions and ask themselves where the true line is between good and evil."
Warning: This book contains images and descriptions of rape, sexual assault and animal cruelty.
Thoughts: I've given this disclaimer to just about every sci-fi book I read: I'm not a sci-fi person. I can't remember the last time it took me this long to read a book. I was a bit lost at first because like a lot of other sci-fi books, you're immediately thrown into this world. I had to ask my partner if there was a book or two I had to read before this and there isn't. That is not the kind of story structure that I can easily pick up, in my mind's eye the plot and characters were disconnected constellations until the very end when it all came together. I would read 50 pages of a character's story not to see them mentioned again for another 100 pages. I much prefer a more or less chronological plot that builds from the ground up. Also, I didn't know what to expect, but if you're expecting a superhero comic book with lots of action, this isn't it. Which I was fine with, I enjoyed seeing how their lives unfolded after the adventuring. But it was just too long for me.
Other adaptations: The 2009 movie is the most popular one, coming out at the beginning of the live-action superhero movies that have become so popular. It looks vastly different from the graphic novel but I also hope to watch this one soon and update this section.
Have you read any of these?
Photo by Radu Marcusu.